2013: Recycled plastic used for the Eco Rider Deluxe set: The set that includes a pack of seeds has recycled plastic phased in. The Green Oil 100ml bottles already made of 100% recycled plastic, we successfully introduce a plastic tub for our Eco Rider Deluxe set.
January 2014: i-Ride is appointed as the new UK distributor for Green Oil to really reach its full potential. At the same time, Agent Apple is launched, a new super powerful degreaser - like Agent Orange's eco friendly cousin!
February 2015: Simon appears on Dragons Den! Riding into the after very little sleep, days of preparation and a last minute bike clean in the hotel shower, it was an interesting yet short feature. Deborah Meaden said "Based on the figures, I'd have to take more than 50% to justify an investment".
Piers Linnay said he bought a bottle of Green Oil in a bike shop in Brighton. He like it when using Green Wet Chain Lube on his down hill bike.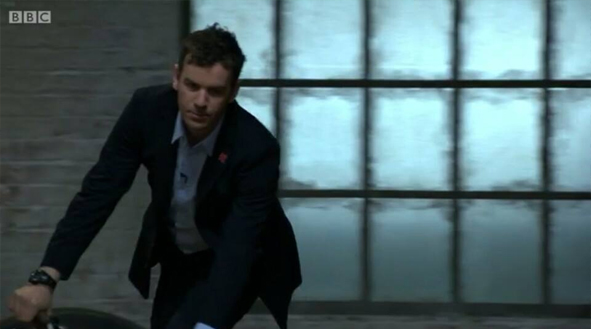 November 2015: New branding introduced. William Pearson, director of the World's oldest bike shop, Pearson Cycles gives Simon some packaging advice at a seminar, which helped form the new Green Oil look.

2016: New branding introduced further and sales increase. One very large online retailer stops selling Green Oil as it cuts brands. This was largely due to the ignorance of a buyer who was confused and trick by a claim by Muc-off their there PTFE lube was biodegradable. (PTFE is NOT biodegradable). The company cut a number of brands with terrible consequences. Green Oil go on the attack with a video explaining how other lubricant brands greenwash. See it here.
Buyer subsequently removed and Green Oil restocked some months later.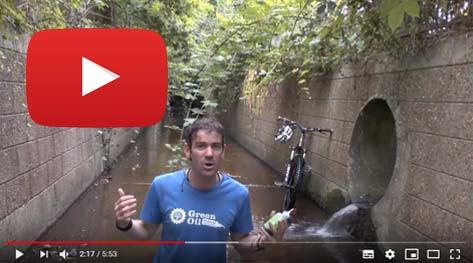 2017: Green Oil launches a successful Kickstarter for Green Oil EcoSpray Lube - a green alternative to GT-85 and other PTFE spray cans lubricants. Half way through it nearly doesn't make it. But in the end it worked out, and within two months EcoSpray Lube is manufactured. The video is here.


.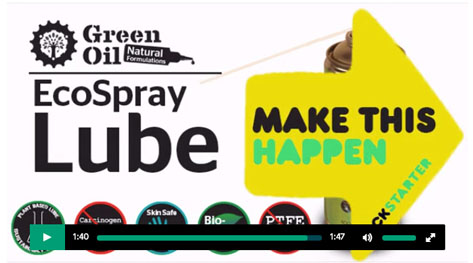 A new video exposing the legal loop hole abused by numerous brands making dubious 'biodegradable' lube claims is exposed by Green Oil in a hard hitting comedy video, 'How to make your own biodegradable lubricant'. Lubricants only have to be 60% biodegradable for them to say 'biodegradable' on the bottle - that is how so many brands are legally allowed to say their products are biodegradable when they contain petrochemicals and PTFE. (A rule set by a body called the OECD).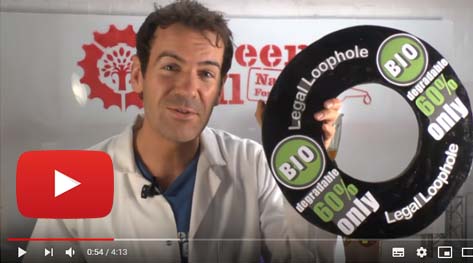 2018: A challenging year, but Agent Apple Extreme Immersion Degreaser is launched, along with a new display rack which helps mentally handicapped people - it's made by them and gives them workplace skills. Eco friendly too, with reclaimed pallet wood used.

Simon Nash launches EcoWarrior.
Youtube Channel EcoWarrior created to raise environmental awareness.
See it and be blown away here!
2019: Simon Nash is invited to speak on BBC World's 'Talking Business' with BBC presenter Aaron Heslehurst. The program was broadcast in 99 countries around the World, and Simon spoke about the problem of PTFE pollution, petrochemicals, and the cycle industry.



The BBC's Blue Planet is also successful, boosting environmental awareness, especially amongst government ministers. Rt. Honourable Michael Gove MP seeks to ban some disposable plastics. A great victory for common sense, long term thinking, and environmentalism. David Attenborough's status as a national hero continues.

2020: COVID-19 gives the World a shake. London's streets empty of cars, the sky free of pollution and aeroplanes, animals walk the streets with freedom as wildlife flourishes, and people stay indoors to avoid the virus. Many people suffer from restrictions, unhealthy people catch COVID, suffering death prematurely. Healthy older people also catch the virus, with severe health problems, often being hospitalised.
COVID-19 meant ingredient shortages and posed a number of production issues, which were largely overcome. The renewed focus caused by the crisis lead to a refinement of the Green Oil branding.

COVID-19 meant ingredient shortages amongst other production issues for Green Oil. Solutions included creating a production run in the Brixton Green Oil HQ.

Lock down created a thinking space. The Green Oil labels were re-imagined and enhanced, with a beautiful new style, illustrating our green ethos, and the product attributes. The new 2020 look utilizes images of Simon's bike parts, including his beloved Orange Ms Isle, and Orro Bike. The new detailed Green Oil labels take many hours of work to produce.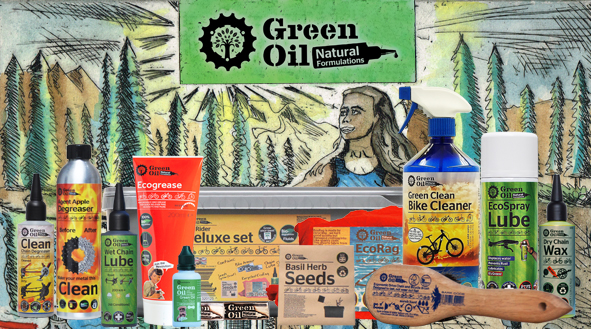 Sales in some areas actually grow for Green Oil through COVID-19, with the green movement expanding, and thousands of people taking up cycling. Simon Nash and George Turner-Gale colaborate to make the above forest scene to go with the new Green Oil look for 2020. The art is hand etched, and hand printed on a victorian printing press, at Artichoke Print Workshop, Brixton, London.

The rationing of exercise really helped (people wanted to make the most of their 1 hour!) as did Netherlands style road closures - to stop lazy car drivers cutting through nice parts of London at the expense of London's air. This is something to be rolled out across the UK to get people out of obesity habits.

David Attenborough is awarded a second Knighthood for his contribution to the natural world, via Blue Planet, and the Black Lives Matter movement in the UK pulls down the Bristol statue of a slave trader, who's malice sent thousands of people to their deaths. Green Oil is based near Holy Trinity Clapham, the Church which started the Anti-Slavery movement more than 100 years ago with William Wilberforce's Clapham Sect.

The terrible landlord Bizspace after years of incompetence and abuse of tenants is forced to sell off assets. A new land lord buys our building, the Victorian Granary, and renames it Coldharbour Works. Bizspace fires abusive area manager for the South East who attempted to lock the Granary, and other premises up to block tenant and courior access during COVID-19, and a new CEO is appointed. Good luck to them.
2021: The New Land Lord, having purchased our Old Granary just before a pandemic takes an opportunity from the NHS - removing tenants to redevelop the building for the new larger operation. Weeks are taken up trying to find a new home for Green Oil.

Green Oil UK Ltd moves to The Peek Freans Biscuit Factory in Bermondsey. Double glazed, powered by renewable energy, April 2021 involves a lot of work fitting the new building. A fresh start, with a new Landlord, the Workspace Group who seem rather good! Peek Freans was a huge British biscuit brand and a huge employer in 'The Blue', Bermondsey, London. The brand still exists and is strong outside of the UK, with a UK comeback imminent!
Stock shortages due to COVID-19 taking up packaging production runs and with Brexit issues, Green Oil UK struggles to keep up with demand. May 2021 brings everything back on track for Green Oil's most successful summer on record.


The journey continues...
Thank you for joining the Green Oil revolution.